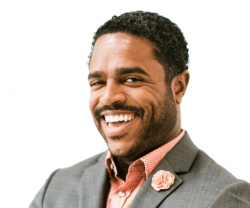 Latest posts by Raphael M. Cheron, MHA
(see all)
Ever struggle to hear from a distance at a theatre, house of worship or in a meeting?
Hearing loop systems in these venues, plus a telecoil in a hearing aid might be just the help you are looking for. Just to be a little bit technical for a split second: A hearing loop system is a set of wires circling a room or part of a room that allows hearing aids with a telecoil (also called t-coil) to connect directly to the sound. The t-coil is a small copper coil in a hearing aid that acts like a wireless antenna to pick up a magnetic signal. You simply push a button or switch to enter the t-coil setting. The hearing aids then use the t-coil as the input source, rather than the microphone. The t-coil picks up the electromagnetic signal and converts it to sound. The result is clearer hearing. Hearing is believing, so this YouTube video demonstrate the benefit of having a loop installed:
Many hearing aids have a telecoil, but not all. Wondering if your hearing aids have this feature? If your hearing aid has an obvious "T" setting on program switch, then it is typically for selection of the loop function. However, with many hearing aids nowadays, there is no way of knowing by looking as to what program options your hearing aids have. You can give us a call or fill out the contact form on our website, and we can find out for you.
Hearing loops provide effective communication across the broadest spectrum of environments – from auditoriums, theatres, meeting and classrooms, pharmacies, ticket counters and even in homes. When entering a larger facility, look for this blue symbol for hearing loop. We have more than 200 installations in Minnesota: in the airport, Mayo Clinic in Rochester, City of Hopkins, Hennepin County Government Center, State Theatre, Mill City Museum and the number continues to grow. For a list of installations, please click here.
If you are traveling outside the state, we recommend you the app LoopFinder. It shows you all the venues with loop installations that are near you.
Loop technology meets all the requirements for assistive listening systems as stipulated by the Americans with Disabilities Act. Are your favorite places looped? Here's the good news. A loop system is easily installed in most venues by an expert. Loops have different configurations, but often it is described as a loop of wire around a room. Loop systems vary in cost, depending on size and the room itself. Small installation like a conference room may cost $2,500-4,500. Larger installations such as auditoriums, senior centers, place of worship can cost up to $35,000. Considering the cost of hearing health generally, the cost of a hearing loop is often very reasonable since it can positively serve an unlimited number of people.
Once installed, hearing loops are always active. They will automatically accommodate one or multiple users simultaneously and without any additional action needed on the part of the venue. Maintenance costs are also at a minimum.
Sounds Good! can give you additional information about hearing loops. Maybe we help you and others with getting one installed in one of your favorite places? If you need help advocating for hearing loops, then we would recommend Hearing Loss Association of America's website as they have a toolkit you can download.
Sounds Good! is more than happy to help you advocate for assistive listening systems via hearing loops in the communities around our clinics in Burnsville and Saint Louis Park, MN. Give us a call.
Finally, we would like to acknowledge the work of Juliette Sterkens. Juliette left her audiology practice to take on the position of Hearing Loop Advocate, travelling across the US to meet hearing care professionals and the public about the importance of telecoils in hearing aids and how to get a hearing loop project started in their community. Here's a 5 min video with Juliette, explaining telecoil and hearing loops: